Chenille Embroidery
Chenille, French for caterpillar or fuzzy caterpillar, Webster's says "a soft tufted silk, cotton, or worsted cord used in embroidery or for fringing." In North America chenille is most commonly recognized as the emblems and letters sewn on letterman's jackets. Historically chenille has had many uses in fashion and furnishings, from delicate work of lace to the bold look of school mascots, chenille is a form of embroidery most of us recognize.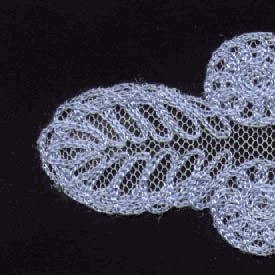 Delicate Chainstitch Lace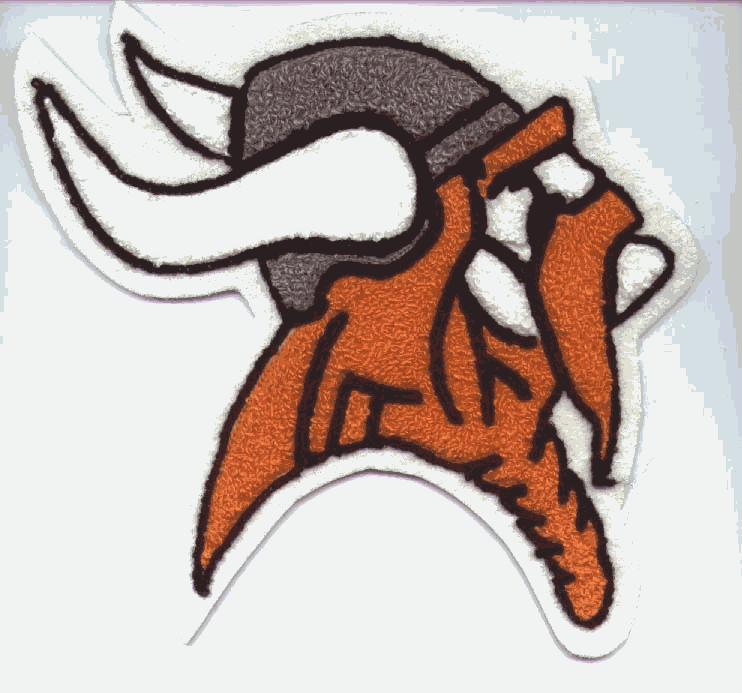 Traditional School Mascot Moss/Chain Work
Originally produced by hand stitching, the production of chenille became industrialized about twenty years after the patenting of the lockstitch sewing machine. A French engineer named Bonnaz invented the first chenille sewing machine in 1866, soon he joined with the Cornely Company to manufacture and market his invention. A few years later Singer received the US Patent. Since the original machine very few design changes have been made. Some models added braid or cord, but the basic machine has remained the same for well over one hundred years. Today hand operated chenille machines are made by a number of machine manufacturers. These machines are widely used by skilled operators.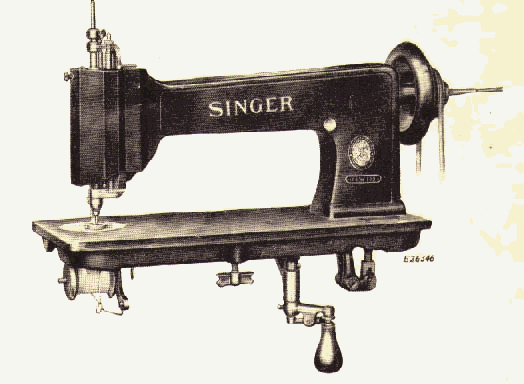 Chenille embroidery machines typically produce both chenille stitches, also known as moss stitches, and chain stitches. Using a hook needle that pulls the thread up from the looper below the needle plate as opposed to a standard sewing needle with a threaded eye, the chenille machine typically uses only one thread for both types of stitches, moss and chain.
Stitch Formation Diagrams
Chain Stitch Formation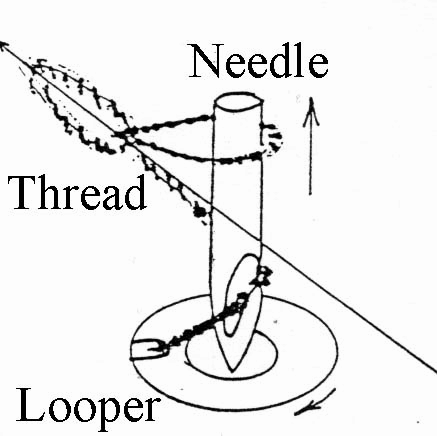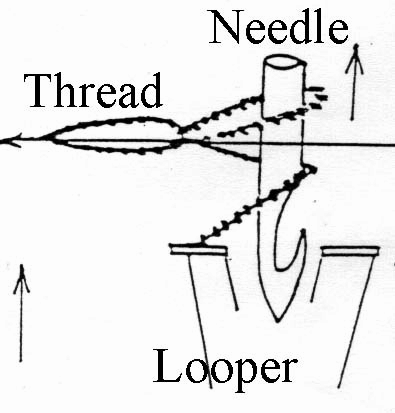 Moss Stitch (Chenille)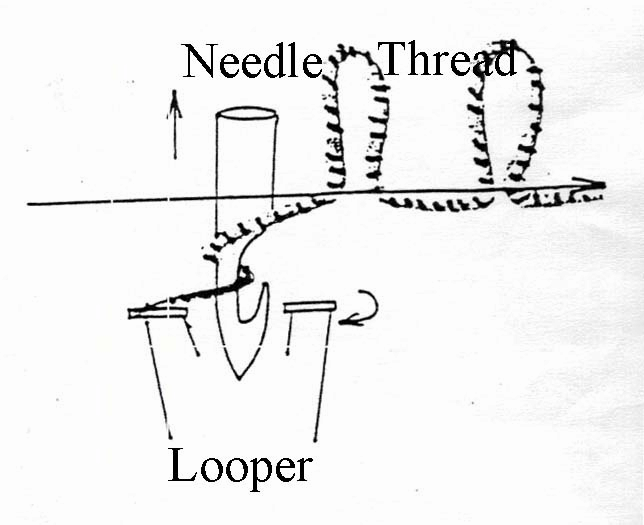 Chenille embroidering machines typically produce two different stitch formations, the moss stitch, which is a loop stitch and the chain stitch. Moss stitches are most often used to fill in areas and create depth, while chain stitch is used to outline, monogram and can be used to produce a more delicate look. Chenille machines, both manual and current electronic machines can use a variety of threads and needles sizes to produce vastly different appearances.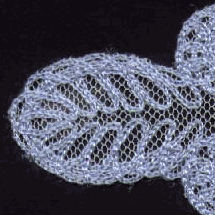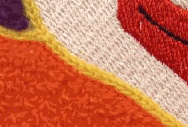 The first picture shows delicate lace work using an electronic chenille machine; the chainstitch is used with fine thread and needle to produce this type of work. The second picture uses a heavier wooly type of yard to do both moss (orange) and chain (yellow).
Cornely and other manual chenille machine manufacturers developed a wide variety of machines based on the original design. Machines for taping, cording and sequins as well as machines with two needles for four thread stitching!
Chenille bedspreads and bathrobes are made on the same principal as chenille embroidery; the material is made on a special type of loom, as are many carpets. Chenille has been produced on Schiffli machines using a specially designed attachment and no bobbin; other Schiffli attachments also produce cut chenille.
Variations of chenille are produced on multihead machines using special attachments and slub yarn, using machines like the Tajima TMLG.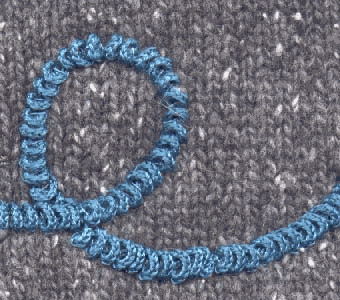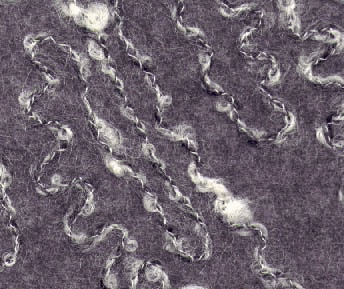 The first picture shows a type of looping work done on the TMLG. The second picture shows embroidery produced on the TMLG using slub yarn.
Still other deviations of the chenille look are made on various lockstitch machines by sewing down a looped yarn or cord using special attachments, commonly known as the Omni Stitch. Tajima offers the KB-2M attachment for standard lockstitch embroidery machines to produce looping.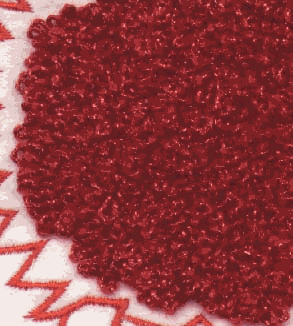 The KB-2M looping/cording device is shown in the first picture. A close-up of looping can be seen in the second picture.
While there are a wide variety of methods to create a look that resembles chenille, none are true chenille embroidery. True chenille embroidery is made with a closed loop, in a moss stitch formation using a continuous yarn being worked into the material and then raised in a loop or pile. (See moss stitch diagram above)
Using highly developed hand, eye and foot coordination, the skilled operator uses the right hand on the handle under the bed of the machine, the foot to operate the start/stop and machine speed and follows a pattern stamped onto the goods. A simplified explanation of the machines walking action, the foot and nipple work with the nipple holding the goods when the foot is raised then the foot coming down as the nipple is raised and the foot moving the goods. All the while following the pattern by turning the handle and guiding the material with the left hand. Called the "Universal Movement", the chenille machine created by Mr. Bonnaz was the first to use this type of movement and remains one of the only machines in embroidery or sewing that will feed in any direction.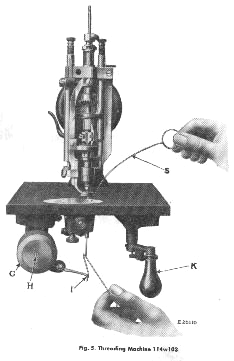 Threading the Singer Chenille Machine
When the embroidery industry began the move into electronic multihead lockstitch embroidery machines the mass production of chenille was left to the skilled operators manually producing chenille products as they had for years. In the late 1970's and early 1980's as more electronic controls were applied to lockstitch embroidery a number of embroidery machine manufacturers began "electrifying" chenille machines. Mass production and less skill were among the goals, chenille in North America was fairly expensive, and being produced one at a time. Unfortunately it wasn't the happiest of marriages. Many of the functions of the machine were still controlled manually, raising the needle to produce a higher moss loop or a looser, broader chain; trimming the threads with the operator using a hook shaped tool were still performed manually. The results produced variation from one head to another and required more skill and understanding of chenille machines.
Tajima determined an electronic head was needed. They developed a machine to "sew by wire". Instead of using the mechanical movements found in the original chenille machines, Tajima designed a machine with various mechanical functions controlled by pulse motors. Looper drive, Z-axis drive (needle and looper synchronization), and ATH (automatic thread trimming) were now driven by pulse motors. With the pulse motors driven by electronic data the machines could produce more and produce it more accurately than ever before.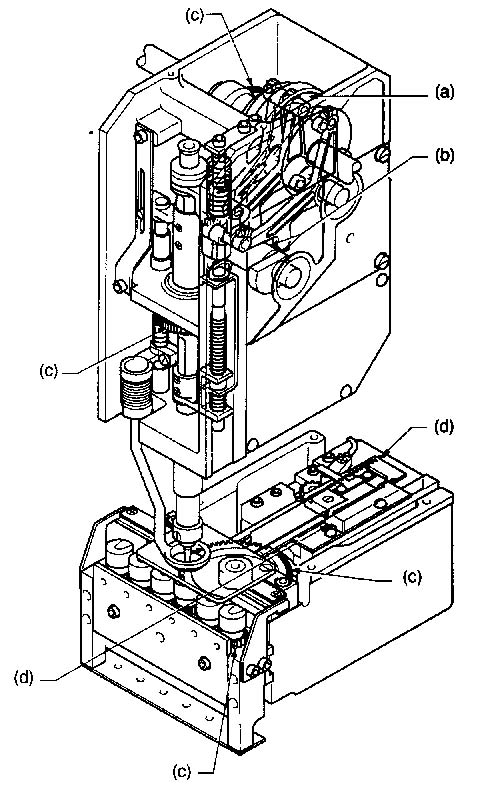 Tajima CE model lubrication diagram
With the development of the new electronic chenille machine, Tajima went on to create the first automatic color change machines, using a system of multiple loopers as shown in the picture above.
Traditionally patches and emblems have often utilized multiple types of embroidery, moss stitch, chain stitch and standard lockstitch embroidery are often all combined in the same work. Creating the world's first electronic mixed head type machine, Tajima brought the chenille embroidery industry into the same realm of production as standard computerized embroidery has known for a number of years.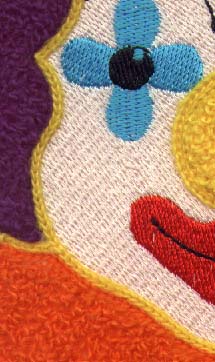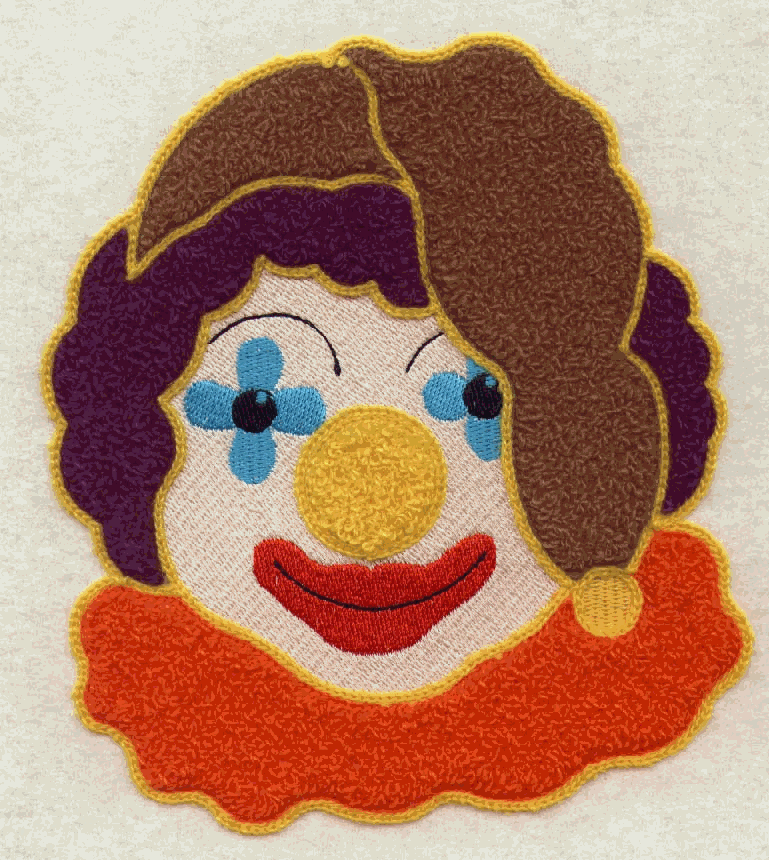 The first picture shows close up detail work from the clown picture done on a mixed type machine, a combination of standard lockstitch embroidery, moss stitch and chain stitch are used.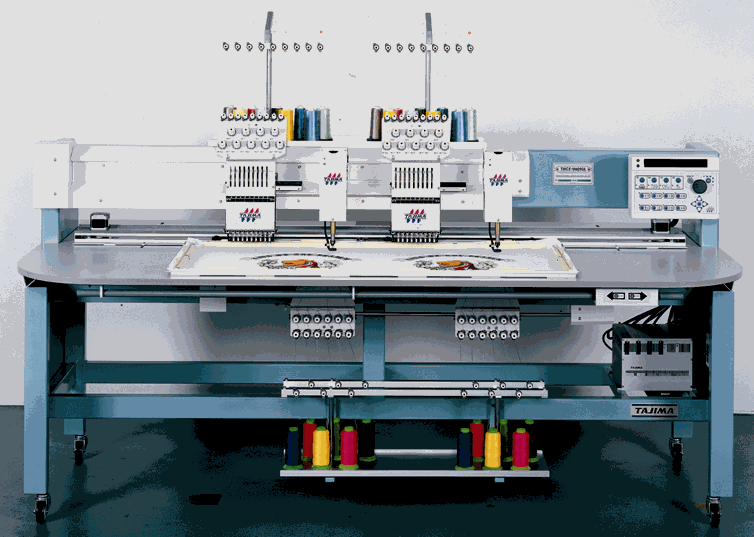 2 head mixed type Tajima CE machine
Even today with the "electrifying" of chenille, the industry is not generally understood by many owners and operators of standard electronic embroidery machines. The electronic chenille market has not developed as quickly as the standard lockstitch embroidery market did. As embroiderers' customers become more familiar with seeing chenille work the market is slowly coming around. Currently many owners of chenille manufacturing have skilled operators who are very efficient for small orders and the cost of moving into electronic chenille equipment is intimidating. The other prime deterrent has been digitizing, or the creation of the designs for electronic chenille machines.
Until very recently the thought of creating designs for chenille was foreign to many digitizers. Electronic chenille machines were few and far between; learning to create designs for chenille appeared to be a whole new process. In reality digitizing for chenille is easier than digitizing for standard lockstitch embroidery, mostly because the North American market generally uses a heavier thread, as seen on letterman's jackets. Because the look is bolder and the thread is heavier, chenille machines do not generate small intricate designs. Quarter inch letters will not be successfully produced on a chenille machine with these types of threads; the machines are not designed for that type of work (although finer thread and needles are available and fine work can be created). Areas are filled in quicker; registration variations are broader, making most chenille digitizing less painstaking than standard lockstitch embroidery digitizing. Recent developments in the embroidery digitizing software market has made available some very sophisticated and easy to use software just for chenille work. The industry "standard" of chenille fill areas being done in a "swirl or rosette" pattern has been computerized by the latest software, removing what was considered an obstacle in early electronic chenille mass production. Instead of filling areas in a grid pattern that some experienced chenille users objected to, software now allows areas to be filled in more traditionally, and, most importantly, very easily.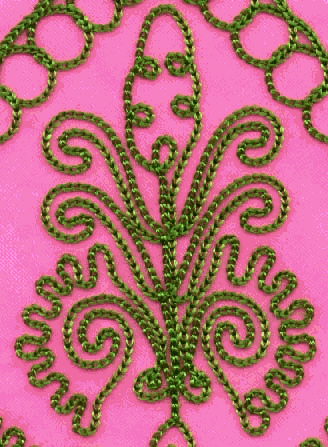 Fine work can be done as well as the traditional bold look, it can be mass-produced with less skill and less variation from piece to piece.
Software and electronic machines designed for the chenille market mean only one thing, more and more consumers will be looking for this type of work from their local embroiderer. As the public becomes more accustomed to chenille on an everyday basis, the market will continue to grow. Manufacturers like Tajima will continue to develop and improve their products to help embroiderers meet their customers' demands. With innovative options like the Cording and Taping Device for chenille machines, true chenille machines controlled by electronics, and software designed to produce beautiful chenille work, Tajima will continue to be a leader in the embroidery industry.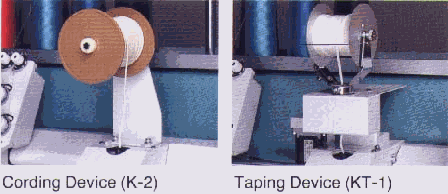 CE machine options

10 head mixed type Tajima CE machine