Consew Heavy Duty Industrial Sewing Machines
Consew 255RB-2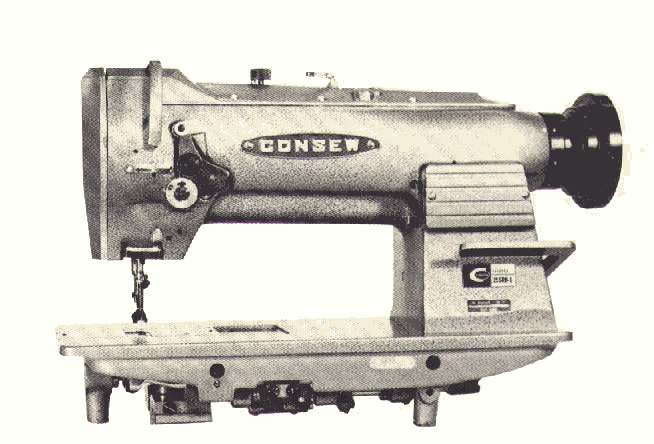 Consew 255RB-2 Single Needle Walking Foot Compound Feed Industrial Sewing Machine, for high speed heavy duty sewing. Features a large bobbin, compound feed, reverse, safety clutch and semi automatic lubricating with automatic hook lubrication.
Consew 277R-2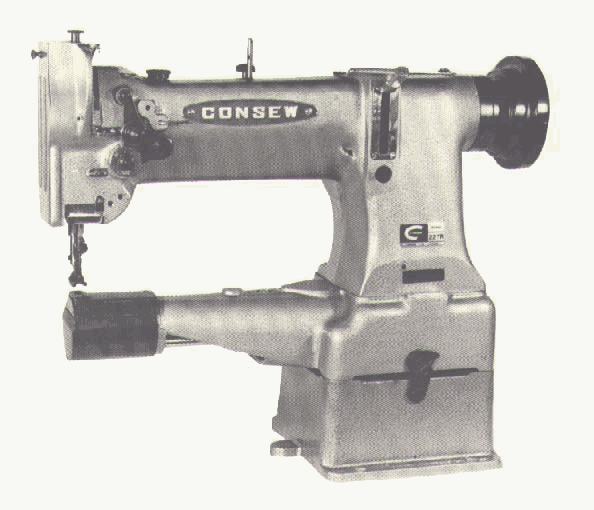 Consew Model 227R-1 Single Needle Walking Foot Compound Needle Feed Cylinder Arm Industrial Sewing Machine is designed for sewing tubular and curved heavy duty work. Caps, cushions, boots, bags, luggage and much more can be sewn easily with this heavy duty cylinder arm machine that features compound needle feed, safety clutch and reverse stitching.
Consew 756R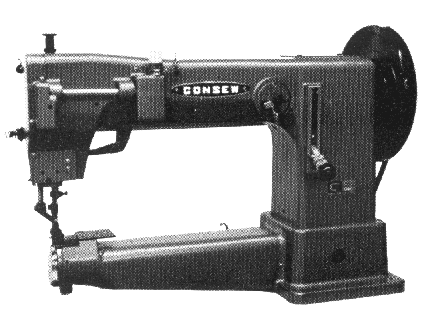 Consew Model 756R
Extra Heavy Duty Single Needle
Long Cylinder Arm (15¾")
Lockstitch Industrial Sewing Machine
With Large Oscillating Shuttle Hook
Reverse Feed
Built in Bobbin Winder
Cam Take-up Lever
Heavy Balance Wheel
Consew Model 756R
Suitable for sewing heavyweight materials such as canvas, vinyl, leather, synthetics, also for various coated, laminated and rubberized fabrics.
Use in Upholstery, Footwear, Leather and Canvas Industries.
Designed for stitching such products as tents, sails, harnesses, tarpaulins, safety belts, parachutes, balloons, industrial bags, boots, book bindings, sports and camping equipment and heavy duty outerwear.
Recommended for tubular and curved work.
Contact us for details about the complete line of industrial sewing machines from Consew.