A Quick Blending Tip
by Jeni Jordan
Are you looking for ways to quickly spice up your embroidery? Here is an editing tip that can change the look of a plain fill area. First, select one fill area that you want to change. Simple shapes work the best, like a circle for the sun. Next, change the density of the circle to .8 (or 80 pt.), which is half the normal density, in other words the fill will be less dense. (See figure 2-1) Then make a copy of the circle and paste it on top of the first circle. Make sure the second circle will sew out in a different color by adding a color change. Remove any underlay in the second circle or you won't get as nice of a blending effect. Check for any walking stitches traveling through the second circle, if there are, you need to remove them or they will also hinder the effect.


figure 2-1
You can remove the traveling stitches in a number of ways. If you have the Trapunto feature with your software, use it. The Trapunto feature forces any computer generated walking stitches to travel along the outer edge of the shape. If you don't have this feature, try moving the start and end points of the circle so that they are on opposite sides of the shape, perpendicular to the stitch angle. (See figure 2-2) As a side note, if you sew the darker of the two colors first, you will get more of an even blend. For example, if you are using orange and yellow as the two colors for the sun, sew the orange first and then the yellow. You can change the look of the blend by changing the fill pattern and stitch length. The blend works best if the stitch properties for both fills are exactly the same. (See figure 2-3)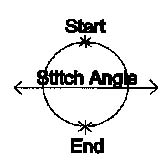 figure 2-2
As an example of this technique, on our web-site request the scarecrow design. One of the patches on the coat was digitized using this tip. Not only does it save a color change in the overall design as you will see, but it makes the patch look more like fabric by giving it a twill look. The most important thing is to experiment with designs and try new things. You will be surprised how you can take a simple design and turn it into eye-catching embroidery just by making a few simple changes.


figure 2-3